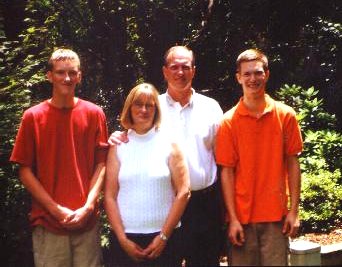 Rick Griffith
griffithrj@hotmail.com

Left to right: Oldest son Rich (20), my wife Mary Ellyn, me, and youngest son Ryan (18).



Bio:
Graduated from Towson State University in 1977 with a BA in Business Administration

Married in 1979 to Mary Ellyn Arnold in Houston, Texas.
We only dated 6 months before we married.
We celebrate our 23rd Anniversary on December 1st.

We have two sons:
Rich (1982) currently a Sophomore at Bowling Green State University majoring in Business.
Ryan (1984) currently a Freshman at the University of Toledo majoring in Pharmacy.

Employeed by Owens Corning from 1977-1987
With Allied Building Products since 1988.
Currently the Branch Manager for the Allied Branch in Toledo, Ohio.
Allied is one of the largest building product distributors in the country., with over 125 locations throughout the U.S.

I've lived in:
Houston ,TX.. 1979-1980
Oklahoma City, OK. 1980-1983
Toledo, OH. 1983 to present.

Interest include:
Golf, travel, work and fun.
Involvement with our Catholic Church (Eucharistic Minister, CRHP, and Marriage Encounter.)
Spent many years with youth Travel Baseball.
I've stepped foot in every state in the continental U.S.