The Dalrymples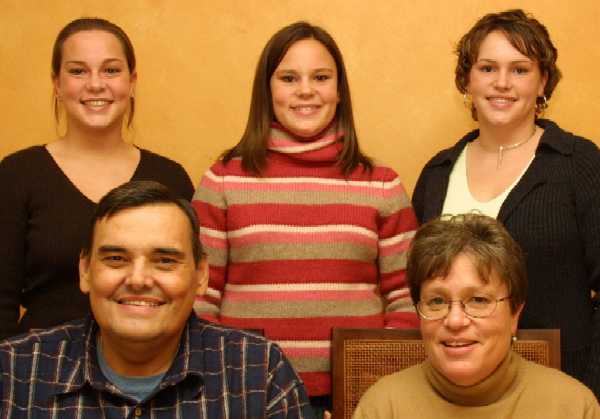 Back Row Left to Right: Amy(19), Sarah(15), Laura(21)
Front Row: Me, and my wife Lynn
---
I met my wife, Lynn Hasenzahl, Catonsville Senior High Class of 1973, in 1974 while performing with the Catonsville Summer Theater. We married in June of 1977. My wife is a Registered Nurse.
We have 3 great daughters:

Laura, born in 1981, graduated this Spring from Lock Haven University in Lock Haven, Pennsylvania, with a degree in Mass Communications. She Has Taken a position with the Human Rights Campaign in Washington D.C.

Amy, born in 1984, is a Sophomore at LaSalle University in Philadelphia, playing Division 1 Field Hockey. She is majoring in Communications .

Sarah, born in 1987, is a Sophomore at South Western High School in Hanover, PA. She is also class president, so I suspect she'll be handling her class reunions.
I work with computers as an OS/390 Systems Programmer.
I worked for the Navy for 6 years, first in Mechanicsburg, Pennsylvania for 3 years, then in Newport, Rhode Island for 3 years.
I then went to work with Sweetheart Cup Company in Owings Mills and stayed there for 8 years.
Next, I went to work for Electronic Data Systems for a year under contract to the U.S. Army.
I left there to work for Montgomery County Public Schools in Rockville, Maryland, where I work today.
I'm not exactly the guy all of you knew at Woodlawn back in the early 70's. I have a few additional parts. In 1992 I had a liver transplant, and in 2001 I had a kidney transplant, The kidney transplant was a gift from my brother, Barry.
My favorite pastimes are watching baseball and football.
I still play the guitar when I can. I am also an amatuer Luthier and enjoy working on and restoring guitars and other stringed instruments
---
Press your Browser's "Back" button or...